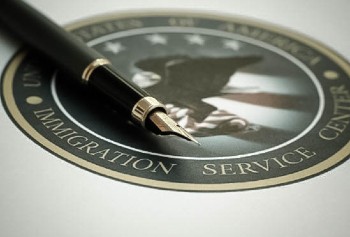 It's possible for some individuals to sponsor family members who wish to immigrate to the U.S. and become either temporary or permanent residents or obtain citizenship for themselves. For successful family-based immigration to take place, applicants and their families must understand how this process works.
Becoming a U.S. Citizen
If individuals wish to become U.S. citizens, it's important to understand the four US immigrant status types and how they influence the immigration process.
Non-Immigrants
These are individuals who enter the U.S. legally on a temporary basis. These may include students on F-1 visas, business visitors or tourists on B1 or B2 visas, fiancées on K-1 visas, or those with temporary protected status. 
Typically, these individuals don't intend to become immigrants or citizens. However, if these visa recipients violate the terms of their visa in any way, they may become undocumented.
Undocumented
Undocumented people are those who have entered the country illegally or otherwise without permission. They are unable to live in the U.S. and they are also unable to gain employment in the country. Additionally, they don't have access to a driver's license, health care, or other public benefits.
Individuals who have this status may be deported or face deportation proceedings if the government discovers that they are undocumented.
People may become undocumented in a couple of different ways. The first is to overstay a legal temporary visa, and the other is to enter the country through an invalid port of entry.
Permanent or Conditional Residents
Immigrants entering the U.S. can also gain either conditional or lawful permanent resident status.
Conditional residents are individuals who have been married for less than two years prior to receiving a green card. Recipients and their spouses must jointly file to remove the condition in two years upon receiving a green card. Otherwise, the recipient will face deportation and their green card will be terminated.
Meanwhile, lawful permanent residents (LPRs) are individuals who have green cards. These immigrants have the ability to permanently live and work in the U.S. The green card that these individuals receive serves as proof of their residency. Individuals can become LPRs if an employer or family member sponsors them, or they may become green card holders if they achieve asylee or refugee status or go through other types of humanitarian programs. If some individuals are unable to have a spouse or another person file for them, they may be able to file for themselves.
To change a person's status from a conditional resident to an LPR, immigrants must submit Form I-751, a Petition to Remove the Conditions on Residence. In addition, applicants need to include all required evidence and fees within 90 days before the expiration of their conditional residence status. If individuals don't file before the two-year anniversary of their marriage ends, both their conditional status and card will expire, which may result in deportation.
Both conditional residents and LPRs have the ability to live and work in the country unless they are convicted of a serious crime or violate the terms of their immigration in another way. They can also petition for their child or spouse to attain legal status.
Once an LPR has maintained this status for five years, it's possible to apply for U.S. citizenship. On the other hand, individuals issued green cards based on their marriage to an American citizen will be able to apply after three years have passed.
U.S. Citizens
A U.S. citizen is someone who was either born in the country or became naturalized following three or five years as conditional residents or LPRs, respectively. U.S. citizens never face deportation unless it's discovered that they fraudulently obtained their citizenship. Citizens also have the ability to live and work in the U.S., and they can receive certain public benefits for which they qualify. In addition, they can petition for the legal status of their family members, including spouses, parents, children, and siblings.
These are the general statuses that one must learn about to find out how an immigrant becomes a US citizen.
What Is Family-Based Immigration?
Family immigration is the main basis for people o legally immigrate to the U.S. Today, both LPRs and U.S. citizens can sponsor spouses, children, and other family members for visas that allow for permanent residence, which are known as green cards. Immigration has been family-based since the 17th century when the first colonies migrated to the U.S., but the introduction of the Immigration and Nationality Act (INA) of 1965 officially enabled families to function as the primary means for people to immigrate to the U.S. Family visas currently comprise around 65% of annual legal immigration.
Who Is Eligible for a Family Visa?
When immigrating to the U.S. as part of a family, there are two types of individuals who may qualify for family visas: immediate relatives and those in family preference categories.
Immediate relatives include individuals who are spouses of American citizens, unmarried children of citizens under the age of 21, orphans whom citizens adopted abroad, orphans who will soon be adopted by citizens, or parents of American citizens who are 21 years old or older.
Meanwhile, family preference categories include:
Unmarried children of American citizens, their children, and their spouses.
Spouses, children under 21, and unmarried children of LPRs who are over 21 years old.
Married children of American citizens, along with their spouses and minor children.
Siblings of U.S. citizens over the age of 21 and their minor children or spouses.
How Many Family-Based Immigration Visas Can Extended Family Members Receive?
Typically, an immigrant will sponsor three or four relatives, including children and spouses. However, there is a maximum of 480,000 visas available for extended family members every year. As of 1990, Congress made it impossible for this number to increase. Although there isn't any limit in place for the number of visas that immigrants can receive for immediate relatives, the 480,000 cap determines how many visas are left for extended family members each year.
In 2015, both children and spouses who qualify as immediate relatives accounted for nearly 69% of family immigrants. They also made up 44% of the total number of immigrants in the U.S.
To help accommodate extended family members, immigration law mandates a minimum of 260,000 family visas issued to those who fall under family preference categories. While minor children and spouses account for about 40% of family preference visas, only roughly six percent include siblings of U.S. citizens.
Immigration law has also set a seven-percent cap—i.e. a per-country limit—every year for family visas for every country.
Family Visa Requirements
To successfully complete the family immigration process, applicants need a sponsor in the U.S., an application for immigration, a medical examination, background checks and screenings, an interview, and a fee.
The individual responsible for sponsoring the immigrant needs to be over the age of 21 and they must live in the U.S. Sponsors also need to file a petition for their family member with U.S. Citizenship and Immigration Services (USCIS). This petition proves that the relationship between the sponsor and sponsee is legitimate and that they both meet the income requirements in place. Additionally, sponsors need to sign an affidavit of support that indicates that the sponsor will meet all of the applicant's financial requirements.
Following this process, the prospective immigrant will undergo security and background checks, which include screenings for criminal history, a history of illnesses, or a history of threats to national security. USCIS also looks closely at each applicant to make sure they won't be likely to require public assistance.
Once USCIS approves the sponsor's petition, the agency transfers the case to the National Visa Center (NVC), which then instructs applicants to fill out specific forms and submit certain documents and fees. Upon receiving all documentation, an officer at the U.S. Consulate or Embassy in the applicant's home country will conduct an interview with the applicant to further determine eligibility. The applicant will also need to go through a medical examination under the supervision of an authorized physician. They must then receive any necessary vaccinations.
After all of the necessary steps are completed, applicants may qualify to receive their family visas.
What Benefits Do Family Visa Recipients Experience?
When immigrating to the U.S., immigrants benefit from having families and communities to support them. With the help of family members, individuals can more successfully and efficiently integrate into American communities, enabling them to successfully gain employment and open their own businesses. They'll also be able to gain a better understanding of American laws and the culture in this country.
How Long Do Applicants Need to Wait Before Receiving a Family Visa?
Depending on the nature of each application, it can take as long as decades to receive a family visa. Generally, immediate relatives of American citizens and LPRs can receive their green cards once they've met all requirements, but the wait for extended family members is typically much longer.
The high demand for family visas and the limitations on these visas have both led to a significant backlog in family preference categories, which is why the wait is so long for extended family members.
Beginning the Family Immigration Process
With a good understanding of how family-based immigration works and the steps needed to proceed, individuals can be on their way to receiving family visas and becoming LPRs or citizens themselves. However, they may need some assistance with expediting the process, in which case family immigration attorneys in Chicago are able to help. If individuals have questions or want to know more about the steps they need to complete, a qualified attorney may help guide them through the process and let them know of the options available to them.
Once applicants and sponsors begin the process of applying for a family visa, they can help ensure that applicants successfully immigrate to the U.S.