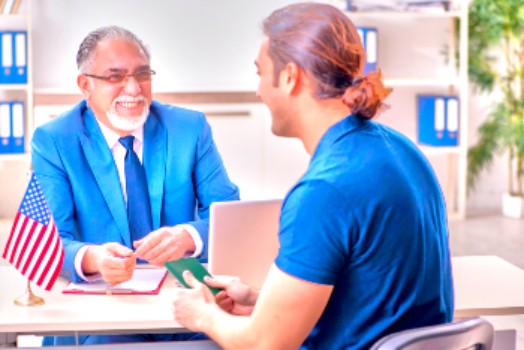 When looking for the right immigration lawyer, it's important to locate an attorney with plenty of experience and proven success in immigration law. It's challenging to go through the immigration process, but a reliable lawyer can help navigate it and work to secure the best possible outcome in a case.
What Is an Immigration Lawyer?
An immigration lawyer is someone who is licensed and qualified to provide representation in immigration cases. A qualifying attorney will have passed the bar exam and received admittance to at least one U.S. jurisdiction's bar association.
Federal law governs immigration law, which means that any immigration attorney with a license to practice in a U.S. jurisdiction is able to provide representation to the country's immigrants. In turn, this means that immigrants can hire an attorney from any location in the U.S., regardless of where they live.
However, there are many immigration lawyers with different focuses. To get the best results in an immigration case and secure the best representation, it's important to find an attorney with experience in the specific issue involved in the case. For instance, if an immigrant wishes to sponsor a family member for immigration, it's best to work with a family immigration attorney who has plenty of experience in this area. Meanwhile, attorneys with experience in employment visas will be able to handle work visa-related matters.
What Can an Immigration Lawyer Do?
There are many tasks that immigration attorneys can help with in an immigration case. The following are some of the key aspects of a case that attorneys can address: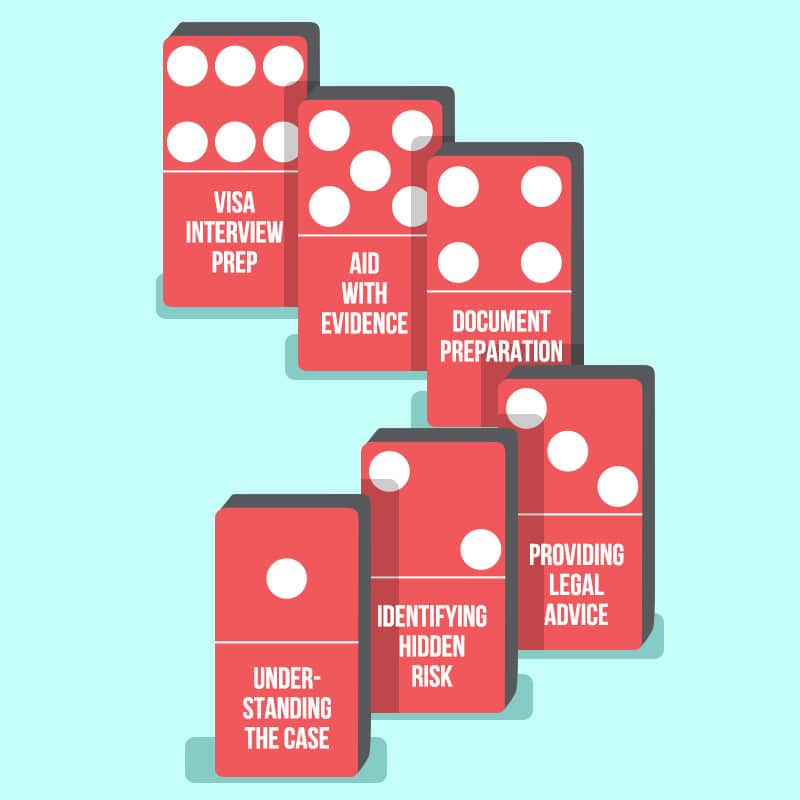 Understanding the Case
A qualified lawyer can help immigrants understand the specific benefits they seek. For example, some benefits may include liabilities that aren't immediately clear, in which case immigrants may want to seek another benefit that poses less of a risk to them. Immigration attorneys also have a full understanding of the different types of immigration statuses, so they can help individuals find the best path to citizenship for them.
Identifying Hidden Risks
Attorneys can also look closely at a case to identify and address any potential issues and risks that might otherwise remain overlooked. For instance, some immigrants may be subject to a "public charge" in their case.
Additionally, that lawyer can help develop and implement certain strategies to mitigate those risks.
Providing Legal Advice
A dependable lawyer can also provide advice to help with making decisions throughout the legal process. As an example, if an immigrant plans to sponsor a fiance, an attorney can help determine if it's best to get married outside of the U.S. and wait for the spouse to receive a visa or get married in the U.S. and require the spouse to obtain permanent residence in the U.S. on a fiance visa.
Preparation of Documents
When seeking permanent residence or U.S. citizenship, it's important to have all documentation in order to ensure the process goes smoothly. An attorney can help obtain and organize all necessary documents to streamline the process and increase the chances of gaining agency approval.
Responding to Requests for Evidence
The government may request additional documentation and details that immigrants may receive following the filing of their application. Immigrants will need to respond to these requests and submit all requested information on time to avoid having their application denied. An attorney will be able to help prepare and respond to these Requests for Evidence in a timely and appropriate manner.
Visa Interview Preparation
The visa interview is a critical step for immigrants who wish to secure certain benefits. A lawyer will be able to help prepare for this interview by providing advice regarding the appropriate answers to provide. As a result, immigrants will go into their interview with a better idea of what to expect when it comes to the questions they'll need to answer.
What Is the Cost of an Immigration Lawyer?
Immigration lawyers may charge their clients in a few different ways depending on their fees.
These potential costs include:
Flat Fees
Some immigration attorneys may charge a flat rate for certain services. Attorneys often charge this fee when seeking clear benefits that leave minimal room for uncertainty, making it easy to determine how much time they'll spend on them.
Hourly Rates
The majority of immigration attorneys charge hourly rates of $100 or more for their services. Lawyers typically charge an hourly rate when representing clients throughout court proceedings, including removal proceedings. The reason for this charge is that the amount of time the attorney will spend representing their client is normally less predictable when proceedings are involved.
Consultation Fees
Some attorneys may also charge for a consultation. In certain cases, attorneys may offer phone or in-person consultations, with phone consultations being free. Meanwhile, others may charge for any consultation, regardless of the medium used to conduct it.
Individuals should keep in mind that all fees are normally non-refundble. Unlike other types of cases, fees will remain the same regardless of whether the government chooses to accept or deny an application.
If individuals are considering not hiring an attorney to provide representation, the costs could be even higher as the chances of gaining approval may decrease dramatically. Ultimately, hiring a reputable lawyer can mean the difference between a successful and unsuccessful case.
When to Hire an Immigration Attorney
It's often difficult to obtain benefits for immigrants. There are many aspects to consider, including documentation and interview preparation, among others. As a result, the process can become complicated and overwhelming, particularly for individuals who aren't used to this process.
A qualified attorney can help significantly increase the chances of obtaining the desired benefit, with services that help with obtaining documentation, preparing for interviews, and navigating proceedings, along with many other critical tasks.
If individuals are wondering when it's best to hire a Chicago immigration lawyer, there are certain circumstances that can help determine whether legal representation is necessary. These include the following:
Immigrants don't speak or read English fluently
Individuals may not currently be eligible for the benefit they want to receive
The legal research individuals need to conduct is complicated and involves sufficient knowledge around immigration law
Immigrants have a criminal record and a history of issues with American immigration authorities, inclduing removal proceedings and visa overstays
Regardless of whether an individual needs an attorney, it's often best to speak with one in a consultation to confirm whether it's best to hire a lawyer. A qualified attorney can help determine what options are available and gauge the complexity of a case, which can point individuals in the right direction.
Tips You Should Follow When Selecting an Immigration Lawyer
When choosing an immigration lawyer to represent a case, whether to seek a family visa, business non-immigrant visa, or another type of benefit, there are some tips to keep in mind that can help with making the right decision.
If individuals are wondering what to look for when hiring an immigration lawyer, the following are some critical elements.
Check for Availability
When speaking with a lawyer, it's important to determine how long it takes for the attorney to communicate after initially reaching out to them. If an attorney isn't quick to get in touch, it could indicate a lack of availability, which could prevent the attorney from giving individual cases the attention they need.
Understand the Fees
When consulting with an immigration lawyer, the attorney should provide a clear estimate for how much they'll charge for their services, whether charging a fixed fee or an hourly rate. This will help gauge whether an attorney is affordable before hiring them.
Make Sure the Attorney Has an Online Presence
Individuals should be able to easily find information about an immigration attorney online, either through their website or other platforms that lend credibility to them. A good attorney will always have a well-designed and detailed website that includes client testimonials and information about the kinds of cases they handle. A lack of an online presence can be a red flag indicating that the attorney is unreliable or inexperienced.
Select an Attorney with Experience in a Relevant Practice Area
General practitioners often handle many types of cases in a variety of areas, including immigration law along with personal injury and other practice areas. However, this could make them unable to give immigration cases the attention they need. An attorney with more experience in immigration law specifically will be more likely to stay up to date with the latest laws and requirements, which can help them more successfully secure benefits for their clients.
Avoid Attorneys That Make Promises and Guarantees
Reputable attorneys will never make any guarantees or promises that they may not be able to keep. If an attorney assures their clients that their cases are easy to handle and makes any kind of guarantee regarding results, this could indicate that they lack the experience needed to effectively handle these cases. A good lawyer will understand that each case comes with different factors that can greatly influence the outcome and make it unpredictable.
Find an Attorney That Maintains Good Communication
A good attorney will also maintain communication with their clients throughout each case. This is particularly crucial as many immigration cases can take as long as years to resolve, making communication throughout the entire process critical. Clients should always have a good understanding of what's involved in their case and what their attorney is doing to help reach a favorable outcome. If an attorney is uncommunicative, this could indicate a lack of reliability.
Choose an Attorney That's the Right Fit
An immigration lawyer should generally be a good fit. During an initial consultation, individuals can learn more about the attorney's personality and determine whether they're the right fit for them. If immigrants establish a friendly relationship with their attorney from the start, this could be a sign that they'll benefit from this relationship in the long term throughout their case.
Know What to Look for in the Right Immigration Attorney
Understanding what to look for when hiring an immigration lawyer will help individuals make the right selection. Generally, an attorney with ample experience, expertise in immigration law, a compatible personality, and affordable costs can help immigrants navigate their cases to secure a successful outcome.