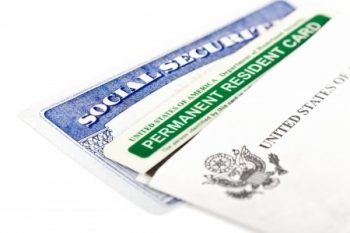 U.S. Citizenship and Immigration Services (USCIS) has updated guidance to clarify when individuals may not be eligible for naturalization if they did not lawfully obtain permanent residency status or abandoned their LPR status during the adjudication of the naturalization application. The purpose of the policy guidance update is to maintain consistency throughout the decision-making process during naturalization.
When Immigrants Obtain LPR Status Through Fraud
While undergoing the naturalization process, immigrants need to meet certain requirements when applying. One of these requirements is the need to establish that the immigrant was lawfully admitted into the U.S. for permanent residence in line with the Immigration and Nationality Act (INA).
Applicants may be found ineligible for naturalization if they obtained LPR status through fraud, in error, or if they otherwise were not in compliance with the law. This includes instances where USCIS previously granted adjustment of status or admitted the applicant because the agency was not aware of material facts that should have disqualified the individual.
When Applicants Previously Abandonded Their Status
Some applicants may also be ineligible if they abandoned their LPR status.
What's Included in the Policy Updates
There are changes included in the new guidance in the USCIS policy manual.
The policy affirms that applicants who failed to obtain LPR status lawfully are ineligible for naturalization. This includes cases in which the government was unaware of material facts that disqualified applicants resulting in a granted adjustment to LPR status or admittance of LPR applicants.
The policy provides additional guidance on specific circumstances that can lead to the agency finding someone ineligible for naturalization due to failure to gain lawful admission for permanent residence. It also details that USCIS reviews whether applicants have abandoned their LPR status throughout the adjudication of the naturalization application.
Further, the policy details that USCIS denies naturalization applications that were filed on or following November 18, 2020, if applicants are in the process of removal. This is because USCIS doesn't have the authority to review the merits of naturalization applications if applicants have a pending removal proceeding that started because of a warrant for the applicant's arrest.
If applicants for naturalization have failed to obtain LPR status for any reason, following the USCIS guidance in the policy manual can help applicants determine which steps to take. While failure to obtain LPR status can hinder a person's ability to become a U.S. citizen, it's still possible for immigrants and their families to gain citizenship.