Bonita B. Hwang Cho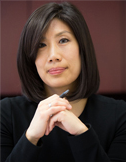 Bonita B. Hwang Cho (Owner/Partner)
Law Offices of Cheng, Cho & Yee
111 W. Washington Street
Suite 1010, Chicago, IL 60602
Phone: 312-853-3088
Bonita B. Hwang Cho is a partner at the Law Offices of Cheng, Cho & Yee, where she specializes in immigration and nationality law. Her practice includes employment-based immigration, national interest waivers and extraordinary ability visas. She also handles family-based immigration, citizenship matters, asylum, and deportation defense. The firm is woman and minority-owned.
She received her J.D. degree from Chicago-Kent College of Law and her B.S. degree in Business Administration at the University of Illinois, Champaign-Urbana. Ms. Cho has been practicing law for over 20 years in Chicago and has been a member of multiple bar associations in various capacities. She was the first female president of the Korean American Bar Association in 2000, and is also a member and past co-chair for the Asylum Committee, EOIR Committee, and Conference Planning Committee of the American Immigration Lawyers Association. She has also previously chaired the Immigration Law Committee for the Young Lawyers Division of the Chicago Bar Association and co-chaired the Solo/Small Firm Committee of the National Asian and Pacific American Bar Association. Ms. Cho is currently a board member of the Asian American Law Foundation.
Throughout her career, Ms. Cho has been asked to speak on various immigration topics. She has been a panelist for a Refugees and Asylum Seminar at Northwestern University School of Law. She has given presentations to students at National College of Chiropractic in Lombard, Illinois; at Moraine Valley Community College in Palos Hills, Illinois; at Adler School of Professional Psychology in Chicago; and at DePaul University. She has also addressed members of NAAAP ("National Association of Asian American Professionals"). Ms. Cho has spoken at various conferences as well. She has spoken at seminars at the Chicago Bar Association, the National Asian Pacific American Bar Association, the Illinois State Bar Association, the Asian American Bar Association of Greater Chicago, the Association for Corporate Counsel America, the American Bar Association, the American Immigration Lawyers Association, and the International Association of Korean Lawyers.
Outside of the legal world, Ms. Cho has spoken on the topic of immigration and immigrants' rights. Remy Bumppo Theatre Company of Chicago performed a show titled, An Immigrant Class as part of their thinkTank series. After the performance, Ms. Cho presented a post-show discussion regarding the legal challenges facing immigrants and the businesses who wish to hire them. And in the spring of 2009, Ms. Bonita Hwang Cho was interviewed by ABC7 for a segment titled "Asian Influences: Dream America" and gave her input on Asian immigrant issues. Ms. Cho has also appeared on the Illinois State Bar Association's Illinois Law cable program on CAN-TV Cable Channel 21.
Mentorship of younger attorneys has also been important to Ms. Cho. In 2010, she provided training for volunteers at the Chinatown Pro Bono Clinic on immigration issues. She has also participated in the Korean Women's International Network, U.S. Eastern Region Leadership Conference, held at the Union League Club in Chicago. At this conference for Korean American women and girls, she spoke on family, career and service. Ms. Cho in 2014 also spoke at a leadership forum sponsored by the Council of Korean Americans, the Korean American Bar Association, the Korean American Coalition of Chicago, the Korean American Association of Chicago, and Kollaboration Chicago. The panel was entitled "The Legal Profession in Today's World: Different Paths to Success." Ms. Cho has even spoken to high school students at Epic Academy in Chicago taking an Immigration Reform Intensive Seminar. At this time, Ms. Cho continues to serve as a mentor to young attorneys through the Korean American Bar Association.
Ms. Cho also strives to stay involved in the community. Currently, she is president of the Board of Directors at Cornerstone Counseling Center of Chicago, a non-profit that provides mental health services to various communities in Chicago. Within CCCOC's mission statement is a social justice tenet to provide mental health counseling even to those who cannot afford it through a sliding fee scale. She is also a committee member of Troop 69 Boy Scouts in Glenview and engages in various social service activities with the scouts. She is also an active member of her church teaching Sunday school, going on missions' trips, and being involved with the Women's Committee. Throughout the years, she has also provided pro bono legal services through Korean American Community Services.
In addition to all of the above professional and community activities, Bonita Cho enjoys CrossFit, Pilates, and spending free time with her husband Michael and her two children, Ethan and Hailey.
Owner and Partner, Law Offices of Cheng, Cho & Yee
Awards
License
Illinois State Bar Association (1995)
Practice Areas:
Business Immigration, Family Immigration, Removal Defense, Citizenship, Asylum, and Federal Court Litigation