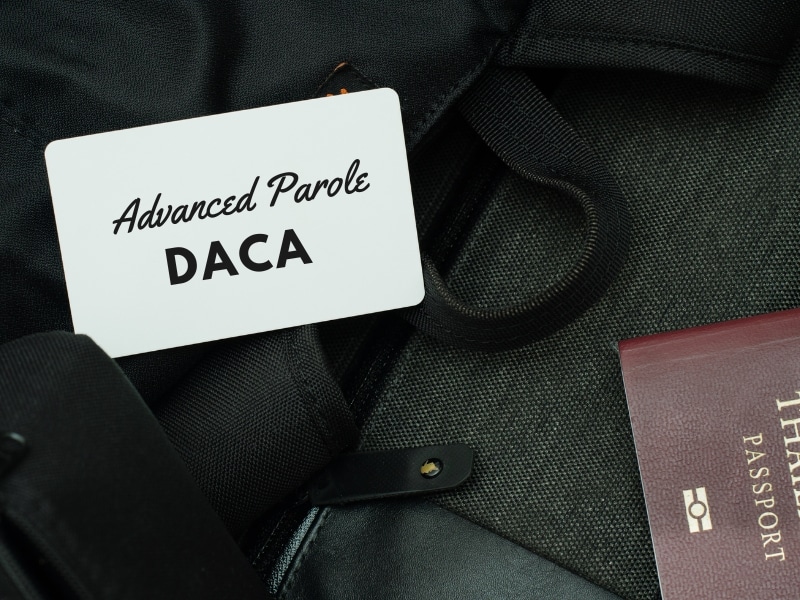 Deferred Action for Childhood Arrivals (DACA) recipients in Chicago will need advance parole if they want to travel outside the U.S. The application for advance parole is only available for approved DACA recipients.
If you want to travel internationally as a DACA recipient, the following guide to advance parole for DACA will help you navigate the process and confirm eligibility.
What Is Advance Parole for DACA?
Advance parole is a specific type of travel document that allows DACA recipients to reenter the U.S. after leaving to travel abroad. Having this document eliminates the need for the individual to obtain an additional visa. In addition to DACA recipients, other immigrants of varying status may benefit from obtaining this document, including individuals seeking asylum, adjustment of immigrant status, and lawful permanent resident (LPR) status.
You will need to request this document before you leave the country. You must also keep this document on you at all times while traveling, in addition to other relevant travel documents.
When to Consider Applying for Advance Parole
If you intend on traveling outside the U.S. and returning as a DACA recipient, you should consider the benefits and risks of applying for advance parole.
For instance, you should consider why you want to travel, with a specific reason that would warrant obtaining an advance parole document. If you want to leave the country for vacation, this is not a sufficient reason for leaving the country on the DACA program. You will need to have more urgent reasons for traveling abroad if you want this document.
You should also consider the general risks of traveling abroad. Is the country you want to travel to potentially dangerous? What would you consider the worst case scenario during your travels, and would you be able to resolve it?
Carefully consider whether it's worth it to travel outside the U.S. on an advance parole document, which isn't without its risks and potential challenges. Thinking about this decision will help you determine whether it's better to stay or leave the U.S.
Who Is Eligible for Advance Parole in Illinois?
So, who can apply for advance parole? Individuals on the DACA program can apply for advance parole if they plan on leaving the country for purposes related to work, humanitarian efforts, or education.
The following are some specific examples of valid reasons for obtaining this document in each category:
Work — You may decide to travel outside the country with employment authorization, with work-related reasons including job interviews, self-employment projects, professional conferences and meetings, and other overseas work-related assignments.
Humanitarian Efforts — These reasons for leaving the country could include seeking medical help, attending a loved one's funeral, visiting aging or ill relatives, or other types of family-related reasons.
Education — You may also leave the country if you plan to study abroad or engage in academic competitions, research, or for other purposes.
You may travel abroad with advance parole if you are applying for a green card, have asylum or refugee status, have Temporary Protected Status (TPS), or fall under other immigrant statuses. However, you may need other documentation in these instances, in addition to advance parole, depending on the circumstances.
Applying for Advance Parole
If you want to apply for advance parole, the following are the steps you must take. If you have questions about the application process or are unsure whether you'll need other documentation for traveling abroad, consider speaking with a Chicago immigration and legal services attorney for help.
Pick the Right Travel Category
The first step when applying for advance parole is to choose the appropriate category—your specific reason for traveling. This could include employment, educational, or humanitarian reasons for leaving the country.
Collect and Complete All Necessary Documentation
Before applying for advance parole, you will need to complete different types of paperwork and obtain other valid documentation to support your application.
Some documents you'll need may include:
Form I-131, Application for Travel Document
DACA approval notice
A letter explaining the reason for your travels
A valid state-issued form of identification with a photo, which could include your driver's license or work permit
Prior to completing the application process, you must also pay a $575 application fee to the U.S. Department of Homeland Security. However, you may be able to bypass this fee if you are leaving the country for urgent humanitarian reasons. This can be beneficial to you financially, as immigration fees are set to skyrocket in the coming years.
Confirm You Have Everything You Need
Before you submit your application, check to ensure that you have obtained all documentation you need and completed all paperwork. You can have a loved one or an attorney review your application forms and documents to determine whether you need to make any changes or additions.
Additionally, an attorney can help you identify and address any challenges you might face before beginning your travels. A lawyer can also help with other issues, such as determining how to stop removal proceedings, how to navigate criminal proceedings if you face criminal charges, or if you are uncertain as to the nature of your initial entry into the U.S., among other issues.
Submit Your Advance Parole Application and Await a Response
The next step would be to submit Form I-131 and all supporting documentation and wait for the U.S. Citizenship and Immigration Services (USCIS) to respond to your application. You may need to wait for a longer period than usual, depending on the backlog of applications. You can reach out to USCIS to determine the status of your application or get additional help from an immigration lawyer.
Prepare to Travel
While awaiting a response, you can begin booking your flight and other materials to help you prepare for your travels. However, you might be unable to effectively plan your travels in some circumstances until you have received advance parole approval confirmation, in which case you may benefit from the safety net of travel insurance. This insurance will help keep you flexible in the event of any issues that force you to change your plans.
Tips for Applying for Advance Parole
To help increase your chances of successfully applying for advance parole on time, here are some helpful tips to consider before and during the application process:
Give Yourself Plenty of Time to Apply
Don't wait too late to begin the application process. You don't know how long it may take to receive a response to your application from USCIS, and giving yourself extra time can also give you a chance to address any potential issues that might arise regarding advance parole requirements.
Thoroughly Explain Your Reasons for Traveling Abroad
When applying for advance parole, you might determine that your reason or reasons for traveling don't strictly apply to the reasons listed under work, educational, or humanitarian purposes. This won't necessarily void your application, however. You might have a perfectly valid reason for leaving the country that's urgent and still permits you to leave as needed.
In your application letter, be thorough and go into as much detail as possible about the reasons you wish to travel abroad. Doing so could help further increase your chances of receiving approval for your application.
Confirm All Details and Documents Are Correct and Included
After initially collecting and completing all documents, including Form I-131 and other supporting paperwork, make sure all information is up-to-date, correct, and complete. Any problems with your application could compromise your advance parole application and prevent you from traveling.
Don't be afraid to consult an immigration attorney for any help if needed. The right professional will be able to look over your application and ensure it's ready for submission. An attorney can also help with a DACA renewal request and any other issues you might need help with as a DACA recipient.
Possible Risks of Traveling With advance parole
You must also consider the potential risks of traveling with advance parole, which may include:
Inability to Gain Re-entry to the U.S.
Even if you successfully apply for advance parole, certain issues could prevent you from gaining re-entry into the U.S. For instance, you might unknowingly face deportation and removal proceedings, which could render you "inadmissible" in the U.S.
The Emotional Impact of Your Travels
You could experience negative emotions on your travels, ranging from fear to depression and feelings of isolation, making it necessary to prepare emotionally before your trip.
Issues With Customs
Some immigrants attempting to reenter the U.S. after traveling abroad could undergo something called "secondary inspection" with U.S. Customs and Border Protection officers. Preparing for a potential secondary inspection could make the process less unexpected and traumatic.
Getting Advance Parole for DACA Recipients in Chicago
If you intend to travel abroad as a DACA recipient, you may be able to successfully apply for advance parole for DACA. Taking the right steps will keep this process smooth and help you get to your international destination.