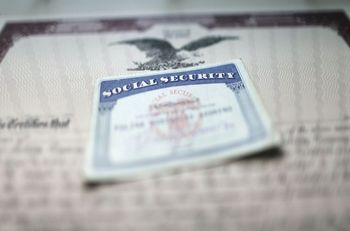 The U.S. Department of Justice (DOJ) made an announcement in September that noncitizen immigrants would be permitted to request new or replacement Social Security cards using U.S. Citizenship and Immigration Services (USCIS) Form I765 or I-485. Normally, non-U.S. citizens would have to visit their local Social Security Administration (SSA) office to apply for a card. Applicants should be able to receive their new or replacement cards within two weeks of receiving their Employment Authorization Document.
Applying for a Social Security Card Through USCIS Forms
Noncitizen immigrants would typically need to visit their local SSA office to begin the application process for a new or replacement Social Security card, but the new method enables them to bypass this step entirely if needed. Instead, immigrants can apply via Form I-765 or I-485, depending on their needs. However, this process isn't currently available to immigrants who have gained citizenship in the U.S.
Immigrants may want to apply for a card under the following conditions:
The applicant hasn't been assigned a Social Security Number (SSN) and would like to apply for one
Individuals want a replacement for a Social Security card that has been damaged, lost, or stolen
Individuals have undergone a legal name change and want this reflected on their card
Applicants want to switch out a "restricted" card for one that's "unrestricted"
Any of these circumstances warrant the process of applying for a card using one of the new USCIS forms.
How the Application Process Works
If individuals don't want to visit their local SSA office, they can avoid doing so when they apply for a Social Security card using either Form I-765 or I-485. After USCIS approves either form, the agency will send SSA information from the form. SSA will then be responsible for assigning a new SSN or sending a replacement Social Security card.
How Long Do Applicants Need to Wait to Receive the Card?
In most cases, applicants who use this process to apply for a new or replacement Social Security card will receive the card within two weeks following receipt of the Employment Authorization Document through Form I-765 or their Permanent Resident Card after the approval of Form I-485.
If noncitizen applicants urgently need a new or replacement card, this new method may not get them their card as fast as they would prefer. This is because the SSA will only assign a new SSN or send a card after USCIS has approved either application form. In these cases, applicants should visit their local SSA office to apply for a card in person, which could help speed up the process.
To find their local SSA office, individuals can use the SSA's office locator tool on their website.
Other Potential Options in the Future
At this time, the USCIS forms and visiting an SSA office are the only two methods for noncitizen immigrants to apply for a Social Security card. However, this is soon to change with a partnership between USCIS and SSA, which will enable individuals to apply for an SSN when they apply for citizenship through Form N-400.
The goal of this partnership is to give nearly 1.3 million immigrants every year the chance to work with both USCIS and SSA together and eliminate the need for all noncitizen immigrants to visit SSA offices or card centers to apply for a new or replacement card. While the partnership has managed to automate processes for individuals applying with Form I-485 and I-765, opportunities will soon open up for anyone who wishes to apply for citizenship.
How USCIS and SSA Work Together
Both of these agencies share information along with educational materials with their customers, which allows for more collaboration to offer more services and benefits to noncitizens. For instance, SSA's goal is to expand communications that would make immigration services such as enumeration available to new U.S. citizens and lawful permanent residents.
Ultimately, this partnership is already beginning to help automate various processes, beginning with this new method for applying for cards through Forms I-485 and I-765. The move also comes at a time when people are still wary about visiting public facilities due to the ongoing pandemic, which has led to quarantines and the temporary shutdowns of certain government facilities in the past.
As automation continues, other processes when applying for certain documents and citizenship could become more efficient for noncitizens over time. This would help make the transition easier and more efficient for everyone involved, including USCIS, SSA, and other agencies through collaborative efforts.
If immigrants want to avoid the need to visit a physical office, the current method of applying for Social Security cards gives them the opportunity to skip this requirement for increased convenience.