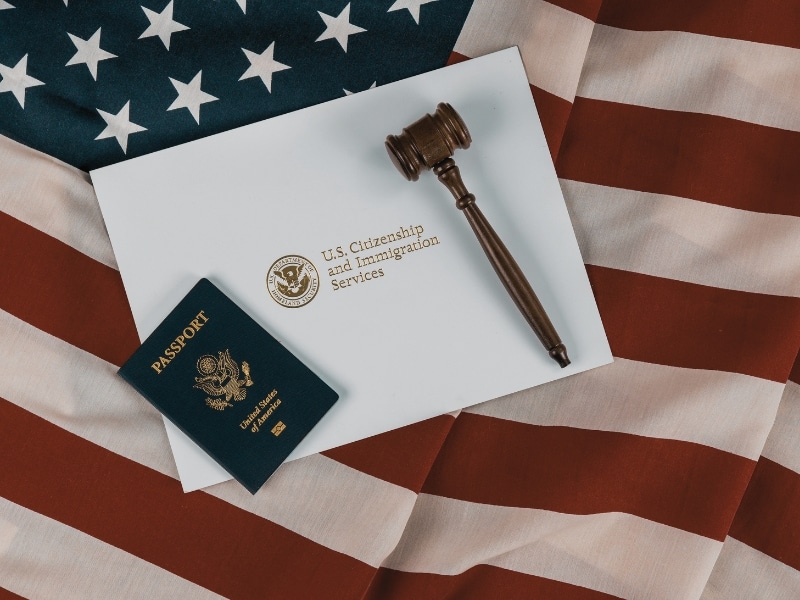 It's now possible to check the USCIS processing times online through the USCIS website, providing applicants with a convenient resource to better understand the processing times for their cases. To use the new system, applicants simply need to enter their form number along with the office processing their case.
What Are the USCIS Processing Times?
Applicants can now check their case processing times via the USCIS website by simply entering the form number and the corresponding office handling the case. The USCIS processing time is the period of time it takes for the agency to process any type of case from the date the agency received the application.
USCIS processes each case monthly based on when it's received, and the processing time displayed is derived from data gathered over the previous two months. To help improve the accuracy, comprehensibility, and timeliness of case processing time postings, USCIS has been testing a new calculation method for developing case times for many forms.
How to Understand Processing Times
Individuals can check processing times for forms such as those used for petitioning immigrant relatives. USCIS displays processing times as a range. The first number in the range is the median amount of time needed for the completion of half of the cases. The second number displayed is the time needed to complete a majority (93%) of cases.
According to USCIS, processing times for cases are based on data analyzed from the previous month unless the "notes" section for the form specifies otherwise. USCIS tries to update most processing times every month to keep them consistently up-to-date.
The agency calculates processing times based on the data collected from previously completed cases and is unable to project the amount of time it will take to complete cases from the moment of filing.
How to Find the Information on the Form to Enter Online
When checking processing times online, applicants can reference the details on their forms and enter them on the USCIS website. The form number is the first item that's needed, which is visible at the top of the form in the box labeled "Form Type" or "Case Type." The other detail needed is the office, which will be listed at the bottom of the form.
Checking processing times online can enable applicants to accurately determine how long it will likely take to complete their immigration cases.
How Long Does Chicago USCIS Processing Take?
Similar to other locations across the U.S., there isn't a specific amount of time you can expect the USCIS to process your application in Chicago. Generally, it will take around six months on the low end of the scale, but it can take as long as 30 months to process an application. Chicago USCIS processing times ultimately depend on the specific type of application and the nature of the case.
The more prepared you are ahead of the application process, the sooner you'll ensure the USCIS processes your application. However, USCIS processing times can vary greatly depending on various influencing factors.
Which USCIS Office Is the Fastest?
You might want to file with a specific USCIS service center to expedite processing, but the fact is that you won't necessarily find faster processing times with specific offices. Remember, there are many influencing factors that can lead to a longer processing time. The location is merely one of many of these factors.
Most service centers have average USCIS processing times ranging from around six to 13 months. One of the fastest is the Nebraska Service Center (LIN or NSC), which has an average processing time of six months. However, there's no guarantee that going through this center will speed up the application process.
Wait times are inconsistent and can vary greatly, depending on the circumstances.
Why Is USCIS Taking So Long to Process?
If you're wondering why USCIS is taking so long to process your application, there are several factors that can influence the amount of time it takes. The following are some of the key factors that go into USCIS processing times:
Visa Availability
The main influencing factor is the type of visa you want to receive. For instance, the I-131 processing time will differ from I-130 processing times, as they have different criteria.
People who are beneficiaries of employers or families will often see more extensive visa backlogs under these preference categories. Also, some specific types of beneficiaries and citizens of specific countries may need to wait longer because of the circumstances revolving around their application processes. Knowing how to check USCIS processing times can help you determine where you stand regarding the amount of time you'll need to wait.
Varying Regional Processing Times
Processing times also vary depending on the specific region. Some offices are busier than others and have to handle a larger number of applications. As such, the amount of time you need to wait may depend on the specific area you're applying in. Keep in mind, there's no guarantee you'll find faster times in other regions. Even if a location tends to offer faster processing times, these trends could change and wait times could extend.
Separation of Immigration Files
If a case involves multiple beneficiaries, this could entail separate filings with varying processing and citizenship times. For instance, the process will be different for sponsoring children and parents. At some point during the case, immigration files may become separated, leading to delays for certain individuals.
Continuing Disruptions from COVID
While the COVID lockdown has ended, the effects of the pandemic continue to impact USCIS operations and have led to delays for many applications. The fact is that the government is still recovering from the effects of COVID, but things will become more streamlined once everything is in order. However, this change will still take some time.
Sending Documents to the Wrong Address
In some instances, issues can involve the wrong address with USCIS. For example, you may have moved since you initially filed with USCIS, in which case you would have to notify USCIS of your address change to ensure all documents go to your new address. Sometimes people may also simply provide USCIS with the wrong address, making it important to ensure all contact information with USCIS is consistently accurate.
If you believe USCIS has the wrong address on file, you can contact your office to confirm whether this is the case. You can then give the office your correct address to resolve the issue.
Inadequate Responses to Requests for Evidence (RFEs)
When applying for a change in immigrant status, you must submit a request for evidence at some point. Failure to respond to RFEs in a timely manner or correctly submit the corresponding forms could result in a delay.
How to Deal With Longer Processing Times
In addition to checking the processing times for your case, you can take other steps to deal with delays in processing. For instance, you could:
Ask USCIS about a potential opportunity to speed up the processing time for your case
File using premium processing if you qualify for this service
Reach out to a congressional representative for assistance with expediting the processing time
Contact USCIS to submit a service inquiry
File mandamus actions against USCIS in more extreme cases
An immigration attorney may be able to help you decide on the right steps to take regarding your case. You may find that you have the option of expediting processing times, or you may simply need to wait until processing completes.
What Can You Do if Your USCIS Office or Form Type Doesn't Appear?
When visiting the USCIS processing time webpage, you might discover that you can't find your specific form or office. If this is the case, you can file an inquiry with USCIS if your case sits in pending status for over six months.
If you're unable to locate your form type or office, keep in mind that USCIS is continually adding processing times for all offices, forms, and categories. The agency is working to update its website, meaning you may be able to see the forms and offices pertaining to your case at some point after filing your application.
Tips for Getting Through Processing
While there are only so many actions you can take to expedite processing with USCIS, you can get through this process more easily by taking some things into consideration. To help you cope with longer wait times when there's no other option available, the following are some helpful tips:
Sign Up for Email Notifications
USCIS allows applicants to sign up on its website and create an account. Through this account, you can sign up for email notifications that provide automatic updates on your case, including changing statuses. Taking this step will help keep you regularly updated on the progress of your case, so you're never in the dark.
Practice Patience
Remember, you're not alone in waiting for long periods of time to complete the immigration process. Some people are likely going through the same struggle, and others may have even longer wait times. Remaining diligent and patient will help you get through the processing time as you work toward your goal of becoming a U.S. resident or citizen.
Avoid Comparing Yourself to Others
Even if you find that other people applying under the same circumstances of you see faster processing times, it's important to understand that certain factors may have affected their cases differently. Just because someone benefits from a faster processing time than you doesn't mean the government favors them over you. Some fairly random factors may have played a part in expediting their application process.