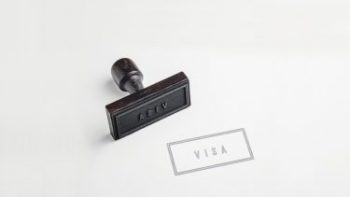 Before the end of Donald Trump's term as President, his administration extended restrictions on legal immigration along with visas enabling immigrants to temporarily work in the U.S. The administration made the move hours before the restrictions were set to end, extending them through March 31, a little over two months into President Biden's term.
Final Trump-Era Restrictions on Immigration
The extension of the restrictions was among the last of the Trump administration's acts, amid a focus on restricting legal immigration that took place throughout Trump's term. The move is one of many based on the administration's core premise that immigrants are taking jobs from Americans.
The Trump administration's restrictions spanned from an early travel ban on several predominantly Muslim nations to an immigration proclamation that targeted immigrants seeking legal migration to the U.S. as of April 2020. That latter proclamation was initially extended in June and went from covering legal immigration to covering some guest worker visas.
While the Trump administration claimed that the negative impact of the COVID-19 pandemic inspired the more recent restriction extensions, this claim was contradictory to the administration's other claims that the country had begun to recover from the pandemic. The extension also counters Trump's claims that the U.S. economy had grown and that the unemployment rate was destined to lower.
The Future of Immigration in the U.S. Under a New Administration
The extension will expire on March 31, leaving many immigrants wondering how the next administration will handle immigration. Soon following his inauguration, President Joe Biden began reversing many Trump-era policies.
In January, the Biden administration signed a number of immigration orders, including an order that repealed Trump's Muslim ban. In addition, immigration advocates are calling on the President to put an end to the recent extensions and other policies, including a policy separating families at the border.
In February, Biden addressed the latter issue by introducing a task force that would work to reunite immigrant children with their families. However, many advocates are still calling for more action from Biden to help legal immigrants, and the Biden administration has yet to address the extensions.
Over time, it's expected that the Biden administration will continue to reverse Trump's policies, including the proclamations extended in December. It's predicted that once the extensions expire on March 31, the Biden administration will simply let the policies expire.