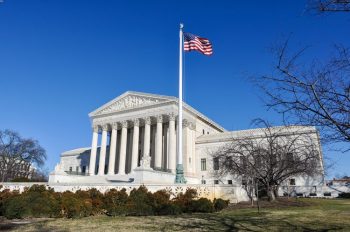 A recent high court ruling may lead to the cancellation of deportations for many immigrants. One case behind this ruling involves an immigrant in Massachusetts who's avoided deportation for decades.
The Case of Lucio Perez
Earlier in 2021, 40-year-old Guatemalan immigrant Lucio Perez had left a church in western Massachusetts, where he'd lived for over three years in an attempt to avoid deportation despite living in the country for more than two decades. Upon this move, immigration authorities gave Perez the ability to live in the country on a temporary basis as he fought to prevent the country from deporting him.
By August, Perez sought help from a Supreme Court ruling that would help him avoid deportation entirely and enable him to stay in the country. Perez is one of many immigrants who have attempted to avoid deportation by proving that they didn't receive proper notice regarding court proceedings.
Perez initially came into the country at the age of 17 in 1999. In 2011, he received a notice to appear in immigration court, but his attorney claims it didn't contain the time or date of his hearing. Perez hopes to be able to open a Guatemalan clothing store in the U.S. if he's allowed to remain in the country under the new ruling.
A Supreme Court Ruling That Could Change Immigration Law
In April 2021, a case resulted in the Supreme Court ruling that Perez is seeking to use to his advantage. In this particular case, the Supreme Court ruled that the federal government is required to provide immigrants facing deportation with all necessary information within a single notice. This particular case involved 30-year-old Guatemalan national Agusto Niz-Chavez, who's still waiting for his case to transfer to Detroit's immigration courts.
Historically, the U.S. Immigration and Customs Enforcement (ICE) has notified immigrants regarding their deportation through multiple notices that are harder to organize. The first notice pertained to court appearances, while subsequent notices provided details about the specific location, time, and date of the proceedings.
With the recent Supreme Court ruling, Justice Neil Gorsuch criticized the multi-part delivery of notices, claiming that it exceeded federal law based on a single word: "a." According to a 1996 immigration law, the government is to issue "a notice" to appear, which lawmakers have interpreted as implying that the government is required to send a single notice.
How the Ruling Could Influence Immigration in the Future
Many immigration attorneys and advocates have indicated that this ruling could lead to drastic changes for immigrants throughout the nation. One attorney, American Immigration Lawyers' Association president Jeremy McKinney, stated of the ruling, "It's a bombshell . . . It's the second time in less than three years that the court has had to remind the government that a notice to appear actually has to notify a person when and where to appear."
Critics of ICE's current approach argue that this multi-notice process causes many immigrants to miss court dates, which is in part because it can take months for them to receive details about when and where to appear. In some cases, immigrants may not even discover that they had to appear at a hearing until years after the initial notice and after a judge has already ordered their deportation.
The recent ruling could take several months to affect nationwide immigration cases. While it's likely to add more cases to a system that's already experiencing severe backlog, it could also revive cases for immigrants who didn't receive proper notification of their hearings and wound up deported.
How Change Is Currently Taking Place
The new ruling could be advantageous for many immigrants who received a deportation notice that didn't include sufficient details. In many states, immigration court judges have already begun to approve the termination of deportation proceedings for individuals who receive notices lacking details about initial hearings, including the date, place, and time. 
Many attorneys are also seeing this as an effective tool to help prevent clients' deportation. Meanwhile, ICE has claimed that it's provided immigrants with a single notice for hearings as of January 2019, despite claiming earlier that its previous process was adequate. The agency is also likely to continue challenging immigrants who attempt to reopen immigration cases as a result of the recent ruling.
Ultimately, while ICE continues to seek to capture and have undocumented immigrants deported, the new Niz-Chavez ruling could have serious implications for the future of immigration. As it continues to have an effect on immigration cases all over the U.S., it will likely become even more important as an increasing number of immigrants fight their deportation. Eventually, many other immigrants may be able to use this ruling to help them stay in the country.